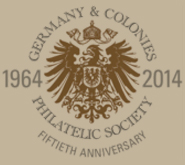 The G&CPS celebrated its inaugural year in 1964 with the first Germania Posta philatelic exhibition held in Stockton.
Visitors' Message Board

To start a new thread, click the linkbelow, opens a new window
To search the forum, type your keyword into the white box below, then click "Search the forum".

Search results may take a few moments to be returned whilst the search is being performed.